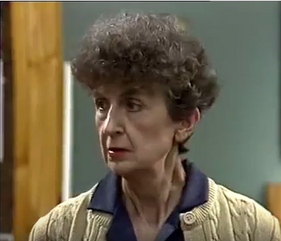 Vivean Gray
was an English actress who played
Mrs Mangel
from 1986 to 1988. She left because she was recieving abuse from fans who confused her with her nosey and belligerent Neighbours character.
Pre Neighbours career
Edit
Vivean Gray was born Jean Vivra Gray in July 1924 in Grimsby, Lincolnshire, England. She was the daughter of a fish and chip shop owner. Vivean moved to Australia in the 1950s after training at drama school. Vivean landed several roles in films and her first regular role was in The Sullivans as Ida Jessup and she played her for 7 series. She also appeared in Prisoner: Cell Block H.
Neighbours
Edit
Vivean joined the Neighbours cast in early 1986 and her first episodes as the nosey Mrs Mangel aired in April that year. Vivean was initally signed up for just 3 weeks but due to her characters popularity, her contract was extended and she ended up being a full time cast member. Vivean soon achieved worldwide fame as the battleaxe Mr Mangel who was devious, nosey and belligerent. She would grass anyone up to the police or council if they were doing something underhand.
However, Vivean was the subject of abuse from fans who thought she was like her nasty character and this got too much for Vivean. So in May 1988, Vivean decided to leave Neighbours to end the constant hounding from fans. She planned to return to England once she left the show.
After Neighbours
Edit
Vivean return to her native England after leaving Neighbours. She retired from acting. After leaving Neighbours, Viven Gray had no more known TV roles.
Upon her return to England after leaving Neighbours, Vivean lead a very private life. She was no longer the subject of taunts from Neighbours fans who could not tell between fiction and reality. After retiring, Vivean indulged in her passion for photography and travelling.
Vivean later moved to a nursing home in Worthing, Sussex, England.
Vivean Gray died on the 29th July 2016 aged 92.
https://en.wikipedia.org/wiki/Vivean_Gray