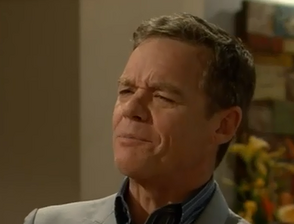 Stefan Dennis is an Australian actor who plays Paul Robinson. Stefan first played Paul from 1985 to 1993 and again since 2004. Stefan is the only original cast member in the show.
Pre Neighbours career
Stefan Dennis was born on the 30th October 1958 in Victoria, Australia.
Neighbours 1985-1992, 1993
In 1984, Stefan, now aged 26, auditioned for the roles of Shane Ramsay and Des Clarke in the upcoming soap Neighbours. He then won the role of Paul Robinson. Stefan settled into the role of Paul, who, due to a failed marriage and being shot by the said wife Terry Inglis (later Robinson) in the first season, turned into a villainous character. In 1992, Stefan decided to leave Neighbours. He made a brief return in 1993 before moving to London, England.
After Neighbours
Stefan got lost of theatre roles and panto roles. He had TV roles in Casualty and The Bill. When he returned to Australia from time to time he had a role in Blue Heelers and Stingers.
Return to Neighbours 2004-present
In 2004, after 11 years away, Stefan agreed to return to Neighbours and moved back to Australia for good.
As of 2017, 12 years later, Stefan is still in Neighbours and this stint has surpassed the 1985-1993 stint in the show. He once said in an interview that he would not rule out quitting Neighbours for rival show Home And Away. Imagine Paul Robinson vs Alf Stewart.
Refs
https://en.wikipedia.org/wiki/Stefan_Dennis
http://www.digitalspy.com/soaps/neighbours/news/a476178/stefan-dennis-i-didnt-want-to-do-neighbours/