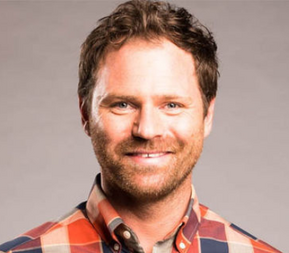 Shane Rebecchi
is a character in Neighbours who appeared in 1994, 1995, and on a regular basis from 2017 onwards. He is the eldest child of
Kevin Rebecchi
and
Angie Rebecchi
and older brother of
"Stonefish" Rebecchi
and
Toadfish Rebecchi (Jarrod Rebecchi)
. Shane was the bad boy eldest sibling and ended up going to prison. In 1994 and 1995, Shane was played by
Greg O'Meara
. He returned in 2017 played by
Nicholas Coghlan
.
Biography
Edit
Backstory
Edit
Shane Rebecchi was born in 1973 to Kevin Rebecchi and Angie Rebecchi. He is their eldest child. In 1979, Jarrod Rebecchi was born. Jarrod later gained the nickname Toadfish. As Shane grew up he dabbled with crime. He was nicknamed Pufferfish.
1994-1995
Edit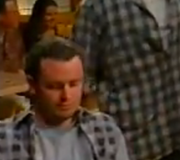 Shane was the rebellious brother of Toadie and Stonie. He caused a mini crimewave in Ramsay Street. He ended up in prison.
In July 1995 Shane escaped from prison but left Erinsborough again when he agreed to return to prison. After his release he moved away from the area completely.
1995-2017 Life away from Erinsborough
Edit
It is not known how long Shane remained in prison once he was sent back there in July 1995. He was somehow free from prison again by around 1997 when he met Dipi Sharma and they married c1998. They had 2 children, Yashvi Rebecchi and then Kirsha Rebecchi.
In Apri 2017 Shane returned to Erinsborough after 22 years to see Toadie. He then moved back to his old street with his wife Dipi and children Yashvi and Kirsha. Yashvi got into trouble at school on muck up day and also accidentally put Kirsha in hospital. Shane reflected on his wild child days and how he spent time in prison as a young adult.
Memorable info
Edit
Father Kevin Rebecchi
Mother Angie Rebecchi
Siblings "Stonefish" Rebecchi, Toadfish Rebecchi (Jarod Rebecchi)
Great grandfathers Cedric
Aunts Janelle Timmins, Coral Reeves
First cousins Dwayne Timmins, Brandon Timmins, Dylan Timmins, Stingray Timmins, Janae Timmins, Anne Baxter, Bree Timmins (adoptive)
Nieces - Nell Rebecchi
Spouse Dipi Rebecchi (c1998-present)
Children Yashvi Rebecchi (c1999), Kirsha Rebecchi
Adoptive Nephew - Callum Rebecchi
Nickname Pufferfish, Puff
Residences
Edit
Appearances
Edit
1994 
1995
2017
2018
2019
See also
Edit