Ryan Moloney [1] is an Australian acto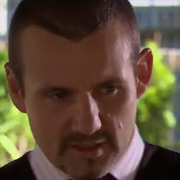 r who has played Toadfish Rebecchi (Jarrod Rebecchi) since January 1995. He played a small role in Neighbours before that.
Pre Neighbours career
Ryan Moloney was born on the 24th November 1979. His first TV role was a thug in Say A Little Prayer in 1993. He then played Cyborg in Neighbours in 1994. He appeared in Episode 2123 - 6 April 1994. Ryan was given the recurring role of Toadie Rebecchi in late 1994 and begun filming that year.
Neighbours 1995-present
Ryan played Toadie sporadically throughout 1995 but was given a full time contract with the show and Toadie became a regular in 1996. Since then Ryan has continued to play the role of Toadie, rebel turned lawyer.
Gallery