Reg Watson (1926-2019) was a former TV producer who c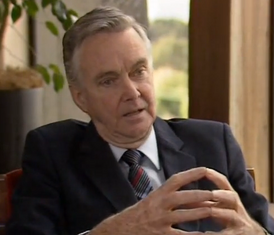 reated this international phenomenon that is Neighbours. And his show is still going strong over 31 years later. Prior to Neighbours, Reg worked on the UK soap opera Crossroads and also created other Australian TV dramas such as Sons And Daughters and Prisoner Cell Block H. He was the executive producer of Neighbours until Episode 665 - 19 February 1988.
Pre Neighbours career
Reginald James Watson was born on the 27th August 1926 in Brisbane, Australia. He appeared in a play in 1939 aged 13 in Paradise Lost. He then wrote a few plays in 1948 and 1951 in Brisbane. In 1955, he moved to the UK and worked on Crossroads, a TV soap which first aired in 1964. Reg worked alongside Noele Gordon, who played Meg Richardson, the main character. After his return to Australia in 1973 Reg created gritty show Prisoner: Cell Block H. In 1981 he created Sons And Daughters and worked on that. He always had the idea for a show like Neighbours.
Neighbours
While working on Crossroads in the UK, Reg Watson also watched its rival soap opera, the more iconic Coronation Street, which had started in 1960. Many years after his return to Australia in 1973, Reg Watson had an idea for a new Australian TV drama which was based on Coronation Street.
In early 1984 Watson then took his idea to the Seven Network who commissioned the show, following the success of his other Seven Network soap opera, Sons And Daughters. Locations were chosen, the show was cast. Several titles for the show were discussed, including People Like Us, One Way Street, No Through Road and Living Together until the network programmers voted on Neighbours.
Filming began in late 1984, and Tony Hatch and his wife Jackie Trent wrote the theme tune, which Barry Crocker sung. The final transmitted theme tune was actually a demo, recorded in Tony's studio and it was so good they decided to use it as the final theme tune. The first episode of Neighbours was broadcast on the 18th March 1985.
Reg oversaw the production of Neighbours for the next 3 years. He gave the final approval of every script and was in charge of brining in new characters. Towards the end of 1987, after 3 years, Reg decided to step down as executive producer, one of his last creations was creating Todd Landers and his sister Katie Landers, who were to be one of his last contributions to the programme. Reg's final episode as executive producer was to air in Australia in February 1988. He was succeeded by Don Battye.
After Neighbours
Reg Watson's last episode of Neighbours as executive producer was transmitted on 19th February 1988. However he remained as a consultant on the show until 1992, watching the production of the show. His next major TV production was the American soap opera Dangerous Women, which started in August 1991 and ended in January 1992.
In 1992 after Dangerous Women ended Reg retired and never produced any new TV shows after that.
Reg Watson died on the 8th October 2019 aged 93.
"Anything that happens in a suburban street can happen in Neighbours" Reg Watson, 1985.
Memorable info
Some sources state his year of birth as 1935, but it is definitely 1926 as he started writing plays in 1948. A September 1948 article for a Queensland newspaper says playwright Reg was 21. So born 1926 or 1927.
It is a common myth that Reg Watson pitched Neighbours to Channel 9 in 1982. Reg has never said that in interviews about his career and Neighbours. He first pitched the show to Seven in early 1984. In 1982, Reg was working on Sons And Daughters. It was late 1983 or early 1984 that Reg decided to pitch Neighbours to Channel 7.
Refs
Episodes written by Reg Watson
1985
1986
1987
1988
Community content is available under
CC-BY-SA
unless otherwise noted.