1985 was Neighbours first year in production. 1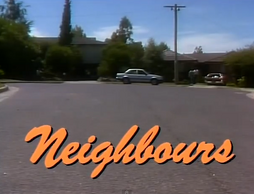 70 new episodes were broadcast on Channel Seven in Australia this year. The families introduced were the Robinsons, Ramsays and Clarkes. Neighbours was axed by Channel Seven at the end of the year but was immediately picked up by Channel Ten and this ensured the show would continue. The year by year pages show a list of Main cast and characters, who lived where and then a definitive episode list of episodes transmitted throughout each year with a link to the page for the episode.
171 new episodes were broadcast in 1985.
Main Cast
Edit
Guest characters
New Main Character Arrivals
Departures of Main Characters
Who Lived Where?
Edit
Prev Year: None
Next Year Neighbours in 1986