Maria Ramsay (Nee Rossi)
was a c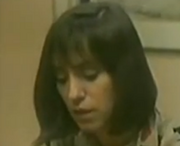 haracter in Neighbours from March 1985 to September that year. She was the first original character to depart the show. Maria left in
Episode 130 - 13 September 1985
. She was the wife of 
Max
and mother of 
Shane
and
Danny Ramsay
. She was played by
Dasha Blahova
.
Backstory
Edit
Maria Rossi was born in about 1945 in Italy or Czechslovakia to an Italian father Franco Rossi and a Czech mother Anna Rossi Snr. They arrived in Australia in the 1950s. Maria met Max Ramsay in about 1962 and they married in 1963. Max and Maria had a son Shane Ramsay in early 1964. Max and Maria had a row in September 1966 and she went away for a while in the bush. At the time she met traveller Tim Duncan and fell pregnant with what Max later thought was his second child Danny Ramsay, born in June 1967. Maria let Max think he was the father. They lived at No 24 Ramsay Street, Erinsborough.
M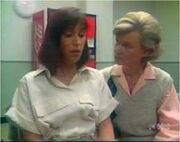 aria Ramsay helped her son Danny through his nightmares. She later told Max that Danny was not actually his son, and that she had had an affair with Tim Duncan. This caused a lot of friction between Max and Maria. Maria later left Max in September 1985 and was never seen in Ramsay Street again.
In May 1986, Max quickly left Erinsborough as Maria wanted to see him in Brisbane. They then got back together and Max decided not to return to Erinsborough. He sold No 24 to his brother Tom who later sold it to Harold Bishop.
As of 2017 Maria's whereabouts are unknown but she is probably widowed as it was hinted that Max had died by 2009. Maria would be aged about 72.
Memorable info
Edit
Birthday: Unknown, about 1945
Full Name: Maria Ramsay (Nee Rossi)
Father Franco Rossi
Mother Anna Rossi
Spouse Max Ramsay (1963-present)
Children Shane Ramsay (1964), Danny Ramsay (1967)
Grandchildren Maybe