Jackie Woodburne is an Irish bo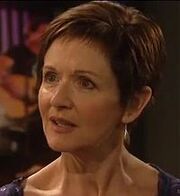 rn Australian actress who has played Susan Kennedy in Neighbours since September 1994.
Pre Neighbours career
Jackie Woodburne was born in 1956 in Carrickfergus, Ireland. Her family emigrated to Australia when she was young. Jackie attended National Theatre Drama School and graduated in 1980. She had a minor role as Josie in Outbreak Of Love. Her first major TV role was Julie "Chook" Egbert in Prisoner from 1985 to 1986.
In 1990, she auditioned for the role of Pippa Ross in Home And Away. She lost out to good friend Debra Lawrence. Ironically in 2018, Debra would play Susan Kennedy's sister Liz Conway in Neighbours.
Neighbours 1994-present
Refs