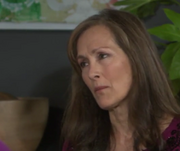 Fay Brennan was a character in Neighbours in 2017. She is the mother of Mark Brennan, Aaron Brennan, Tyler Brennan and Chloe Brennan. Fay was played by Zoe Bertram.
Biography
Edit
Backstory
Edit
Fay was born in 1957/1958. married Russell Brennan in about 1980 and they went on to have 3 sons, Mark Brennan in 1981, Aaron Brennan in 1984 and Tyler Brennan in 1991 and a daughter Chloe Brennan. However, one time Fay had an extra marital relationship with Hamish Roche and got pregnant with his child. Tyler was the product of that affair.
Memorable info
Edit
Born: About 1958
Full Name: Fay Brennan
Spouse - Russell Brennan
Children - Mark Brennan, Aaron Brennan, Tyler Brennan, Chloe Brennan
Grandchildren - Caitlin Brennan (died during pregnancy)
Fay was mentioned in Episode 6188 - 22 Jun 2011. Her name was Elaine Brennan and it was shown on her son Mark's passport as an emergency contact for him. When she arrived in 2017, she was said to be Fay Brennan.
Appearances
Edit
2017
2018
2019
See also
Edit