Synopsis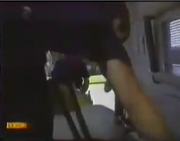 Jane Harris is late for work. At the crash site, Gail Robinson is OK but Daphne Clarke is seriously hurt. Tony Romeo asks Jane out on a date. She says no as she is dating Mike Young. Tony suggests a foursome with him, Jane, Mike and Sally Wells. Helen Daniels calls to tell Des Clarke that Daphne and Gail have been in an accident. Helen says someone hit Daphne's car and it rolled over and asks Des and Paul to come to Erinsborough Hospital. Baby Jamie Clarke is fine. But Daphne sustained serious head injuries and is in the operating theatre. Gail has cuts and bruises but is stable. Gail says it was 2 idiots in a car. Paul and Des are on tenterhooks waiting for new on Daphne. Des has memories of when Daphne gave birth to Jamie last year while on a picnic and they had to rush Jamie to hospital. A nurse tells gail that a policeman is outside and wants her to make a statement. While she waits, she tells Helen and Paul that 2 lads were shouting things at her and Daphne at the traffic lights. As Daphne tried to get away they made her crash. Henry Ramsay says to Sally that he will cover her shift at the cafe so she can be with her brother Des at the hospital while they await news on Daphne. The nurse says Daphne is still critical even after her operation. Tony says Daphne seems like a nice lady and he hopes she pulls through. At the hospital, Des prays to God to let her live.
Cast
Guest cast

Writer: Reg Watson
Series Producer: Marie Trevor
Director: Tony Osicka
Executive Producer:
Notes
Daphne Clarke was played by an uncredited extra
Community content is available under
CC-BY-SA
unless otherwise noted.