Synopsis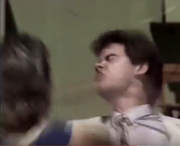 Max Ramsay and Madge Mitchell argue over their grans vase. Daphne Lawrence tells her boyfriend Shane Ramsay that Paul Robinson is behind her eviction from the coffee shop. Eileen Clarke wants to speak to Des Clarke but he is in a seminar. Andrea Townsend is alarmed at Eileen's presence. She worries she has found out more info on Bradley's true parentage. Paul sees Shane working and says he may be working for him soon. Shane says Paul has turned bad and how they kept making excuses for him due to his sham marriage to Terry Inglis. Paul says Shane will never be a success at anything as he whines too much when things dont go his way so should stick to what he does best, labouring. Shane thumps Paul. Back at No 28 Ramsay Street, Eileen Clarke says that her Desmond cannot be Bradley's real father and she has the proof, right here and goes for her handbag.
Cast
Guest cast

Writer: Reg Watson
Producer: John Holmes
Director: Richard Sarell
Executive Producer: Reg Watson
Gallery
Community content is available under
CC-BY-SA
unless otherwise noted.