Synopsis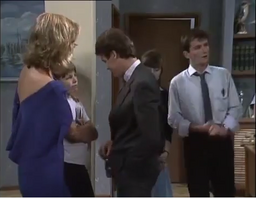 Scott Robinson says he walked out of the exam as he could not handle it. Bradley Townsend decapitates Jim Robinson's roses with a boomerang. Jim drags him to his mum Andrea Townsend. Andrea is angry at Jim and says that her son would not do such a thing. Jim does not believe her. As Jim leaves, Bradley asks for his boomerang back. Later on Bradley is riding on the pavement at Ramsay Street and is told off by Scott Robinson and Danny Ramsay. Bradley gives them cheek so they lift him up on his bike. Bradley shouts out for his mum to help. Jim is annoyed that he can hear Bradley yelling "Mum" and that is all they seem to hear nowadays. Andrea storms round to No 26 Ramsay Street and confronts Jim and thinks she is being victimised as her and Bradley are new to the area. Jim says that is unfair as they go out of their way to make people welcome in Ramsay Street but that Bradley has caused nothing but trouble since he arrived. Paul Robinson consoles a depressed Scott by the lake. He reminds Scott of the time him and Danny took a corrugated iron canoe to the middle of the lake and it sunk to the bottom. Scott says it is probably still there. Paul says that when Terry Inglis left him, he thought he could never live again but he got over it. Paul encourages Scott to make something of his life. Scott tells his father Jim that he walked out of the exam. He refuses Jim's help so Jim says Scott is on his own then.
Cast
Guest Stars

Writer: Reg Watson
Series Producer: John Holmes
Director: Andrew Friedman
Executive Producer: Reg Watson
Gallery
Community content is available under
CC-BY-SA
unless otherwise noted.