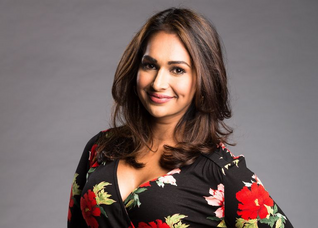 Dipi Rebecchi is a character in Neighbours who first appeared in April 2017. She is the wife of Shane Rebecchi. Dipi is played by Sharon Johal.
Biography
Edit
Backstory
Edit
Dipi Sharma was born in Australia in about 1980 of Asian heritage. She has a younger sister Mishti Sharma. Dipi met and married Shane Rebecchi in the late 1990s, around 1998. They had a daughter Yashvi Rebecchi in about 2000 then Kirsha Rebecchi some time afterwards.
Memorable info
Edit
Born: About 1980
Full Name: Deepika Rebecchi (Nee Sharma)
Dipi is supposedly a few years older than Sharon Johal who is 32 as of 2017. Dipi has 2 teenage daughters so she is at least 35/36 years old. In September 2018 it was said that Dipi and Shane had been married 20 years.
It was mentioned in a couple of episodes that Dipi and Shane have a son named Jay who is at University.
Father - Mr. Sharma 
Mother - Mrs. Sharma 
Siblings - Mishti Sharma
Spouse - Shane Rebecchi (c1998-present)
Children - Kirsha Rebecchi, Yashvi Rebecchi and Jay Rebecchi.
Brother in laws - Jarrod 'Toadie' Rebecchi and Kevin 'Stonefish' Rebecchi.
Mother in law : Angie Rebecchi.
Father in law : Kevin 'Big Kev' Rebecchi.
Niece : Nell Rebecchi.
Nephews : Callum Jones Rebecchi and Hugo Somers.
Residences
Edit
Appearances
Edit
2017
2018
2019
See also
Edit